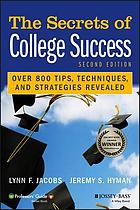 The Secrets of College Success' combines easy-to-follow tips that really work with insider information. The over 800 tips in this book will show you how to: Pick courses and choose a major ; Manage your time and develop college-level study skills ; Get on top of the core requirements ; Get good grades and avoid stress ; Interact effectively with the professor ; Match
college and career, and more.
See it in the Catalog.

You can see all our new books on the New Books page.